Two weeks of my #3Kin2 challenge are over. I haven't made a single dollar yet.
And with my current approach it's going to be tough to get there.
But if I validate the basic idea of my planned concept, then that's the proof for higher long-term potential within that area.
Attorney Call for Legal Guarantee: Next Week
Yesterday the attorney, which one of my former clients recommended, agreed to talk about legal for websites. As far as I can say, this is a main pillar of the offer which I am currently elaborating – exclusively for the niche of alternative practitioners.
Since they have quite some legal restrictions (especially when it comes to advertising) one potentially beneficial approach could be to build websites for them with a legal guarantee (within reason). The idea is to develop a concept which works foolproof for this particular target group. So that the legal eventually becomes the main sales argument.
That's what I'll be discussing with the attorney.
Finally usable data (after 4 days)
My Google Maps automation crawler worked well over night until I started the desktop of the raspberry pi again. Then it suddenly failed many runs.
Therefore I conclude that the desktop is probably to computing-intensive for the small machine. I mean it works. It just takes some time and is quite slow – so that the planned timeouts of my automation tool fail.
However, Over night I've finally extract contact information from 180 HTML files into clean spreadsheet data.🙏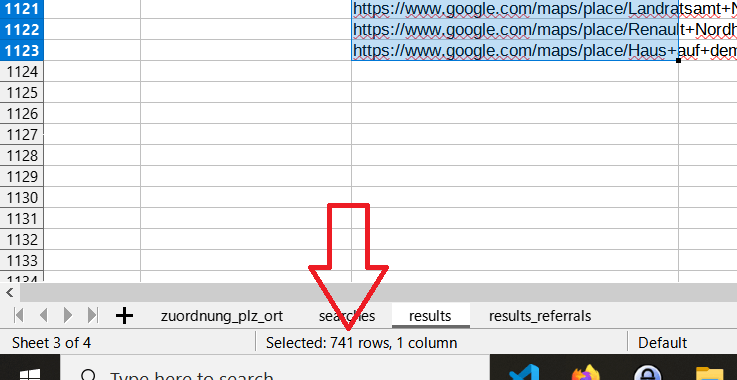 How I'll make $3000 until the end of 2022
Got almost 750 new contacts (only from ~20 out of 180 manually concatenated spreadsheets) after dropping the duplicates. I expect ~40-50% to be contacts without a website – so roughly 300 new contacts without a website. And I expect 50% of them to be dead numbers.
So I expect ~150 self-employed people without a website. Based on my experience from my past calls, probably most of them (80%) aren't interested in a website at all.
Therefore I expect 30 people who may be interested in a zoom call to discuss opportunities of a website at all.
Out of these 30 maybe interested people, I expect 50% to actually get on a video call with me. These people aren't guaranteed customers.
So I call 300 numbers. I get on 150 calls. I get rejected 120 times. I get 30 appointments booked. I get on a video call with 15 people. Eventually I sell to 6 of them.
Let's assume my website concept fits for ~6 people out of 15 video calls. If I sell each website for 500$, I'll get $3000.
Let's assume I do all these 300 calls this week and all the video calls next week. Not taking the last (christmas) week into account, I then have 4 weeks left to finish all the websites – or at least get paid for them.
If I get all of the above described done until the end of 2022, I'll hit my $3000 in 2 months.😁
Google wants to fool me
I feel Google wants to fool me. 90% of the contacts which I recently crawled seem to be physicians, physiotherapists or dentists. I've literally searched for alternative practitioners (in German). I see that there's certainly a connection. And probably there are just no alternative practitioners in many areas so that it's reasonable when Google suggests other medics instead.
However I am almost half way through my new list and only got ~5 people on the phone (who are actually alternative practitioners). Those are mostly almost dead (retired)…
I feel like it's generally a reasonable thing to use Google Maps data to do cold calls. But aiming to reach people who don't have websites in their Google Business Profile just seems more and more foolish.
Originally I hoped that these people may be interested in getting a website. But it turns out, that most of them are:
not available (dead numbers)
are retired
Currently I most feel like a douchebag who sorts Google Maps data.🤡 I actually just wonder that I found so many actual results for alternative practitioners when I started searching manually. But now when I use the data from my bot it mostly found other medics…🤔 Mysterious…🧙‍♂️
Finally Data – But Improvements needed (or even pivot?)
If you wonder why my mode changes so rapidly within one single blog article.
Several of the articles which I write about my #3Kin2 challenge, are (almost) copy-pasted statement which I shared in the Discord during the day.😅
So there are quite some ups and downs – even within a single day. I feel super excited when I finally get my first data.
And a few hours later I feel super in doubt, when I realize that the data is crap.😣 And then the catch-22 of doubts strikes.
Does it even make sense to call people who don't have a website? Is this going to be a valuable learning experience, even if this particular project fails (or if I give up too early)? Should I even learn and do browser automation? Or should I rather do things which are more valuable?
Helping as many people as possible for example – right now, not with endless planning and tinkering. But with direct outreach, brave networking and greater visions.